Published on Mon., December 17, 2007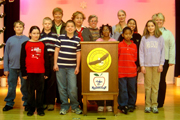 Plan Description:
This Master Partnership between Earth Education at Kum-Ba-Yah and T. C. Miller School for Innovation is designed to provide academic support for environmental education in and on the school grounds and at Camp Kum-Ba-Yah. This mutual partnership will provide an opportunity for partners to work together to promote positive outdoor classroom learning experiences for students, and teachers.
Major Objectives:
To provide direct experiences with nature to enrich and reinforce classroom study of the life sciences and many other curricular subjects.
To enhance the understanding of ecological principles through investigation and experiential learning.
To participate in innovative programs in environmental education.
Major Activities:
Third and fourth grade students will participate in a program in which they learn about habitats and ecosystems through a variety of hands-on outdoor activities as they explore the forest, meadow, and pond at Camp KBY.
Fifth grade students will participate in the initial year of the implementation of the "Rangers of the Earth Program" which is designed to give students an understanding of ecological concepts and learn to live more harmoniously with the natural world.
The Earth Education Coordinator at Camp KBY will provide referral to resources in environmental education.
Evaluation:
All parties will provide a written evaluation of partnership activities by completing a partnership evaluation form at the end of the school year. 
Planning Committee Members
Team Members:
Karyn Barra, Principal, Thomas C. Miller School for Innovation
Lora DeVan, Earth Education Coordinator, Camp Kum-Ba-Yah
Jean Clements, Executive Director, Camp Kum-Ba-Yah
Renee Anderson, Science Coordinator, Resource Teacher, Lynchburg City Schools