Published on Thu., November 5, 2009
Plan Description: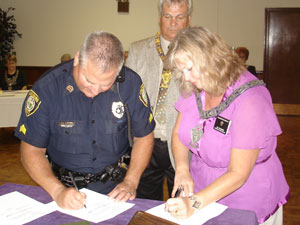 This partnership is designed to provide recognition for students, curriculum enrichment, and to support Standards of Learning curriculum.  This support will be available for various grade levels in an effort to further promote the instructional program of Lynchburg City Schools.
Major Objectives:
To utilize the talents and resources of the Lynchburg Elks Lodge #321 in support of the instructional program of Lynchburg City Schools.
To create a partnership which enables personnel from the educational and non-profit worlds to interact and accomplish common goals.
Major Activities:
Activities will be provided to improve student achievement and educational experiences which include:

supporting the DARE program
implementing possible scholarships
implementing possible contests

The Lynchburg Elks Lodge #321 and Lynchburg City Schools will promote the partnership in the community and publicize partnership activities through newsletters, press releases, partner visits and other appropriate company and school division publications.
Evaluation:
All parties will provide a written evaluation of partnership activities by completing a partnership evaluation form at the end of the school year.
Partnership Coordinators:
Team Members:
Dr. Merle Herndon, Director for Professional Development/School Business Partnerships
Officer Dave Ragland, Community Relations Officer
Jill Wagner, Lynchburg Elks Lodge #321, Public Relations Chair
Don Carpenter, Lynchburg Elks Lodge #321, Exalted Ruler