Published on Wed., October 3, 2012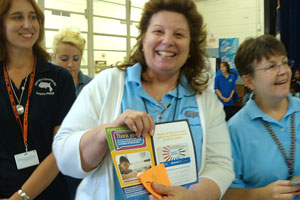 Walmart surprised 20 teachers at Dearington Elementary School for Innovation with a $50 gift card in September that can be used to purchase supplies for their classrooms. That added up to a total of $1,000 in educational support for students at this school.
The gift cards were part of the Teacher Rewards program, an extension of Walmart's support of education initiatives that help students better prepare for their future.
"The acknowledgement of the hard work and commitment that all teachers demonstrate is a powerful support in our communities," said Terrie Haley, Dearington's principal. "We are honored that our Ward's Road Wal-Mart identified a Lynchburg city school to help support teachers and ultimately, our children."