Published on Fri., March 1, 2013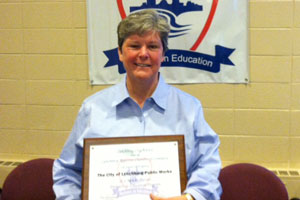 This is a one-year Master Partnership between Fort Hill Community School and The City of Lynchburg Public Works. The partnership will be renewed annually upon review and mutual consent of both parties.
Plan Description:
The master partnership between Lynchburg City Public Works Department and Fort Hill Community School will create an avenue for students to explore career opportunities within the city.  Students will learn the appropriate procedures for completing a job application and the interview process, and will experience job shadowing with numerour supervisors and crew leaders. This Lynchburg Public Works Academy was started during the 2nd semester of 2011-2012 and has been extended with the first semester of 2012-2013; students have just completed the fall session and other students will be given the opportunity to participate in the spring session which will begin in late March, 2013.
The idea behind this partnership is twofold: students can benefit from learning what employment opportunities might exist in their home town and also provide Lynchburg City with the opportunity to "grow our own" pool of applicants for opening positions which may occur.  To date, one student who completed the academy last spring has been hired as a part-time seasonal worker.  He was employed during the summer months when the deracho storm caused significant storm damage in Lynchburg and as a result, he gained valuable experience working with crews to restore service to our citizens.  This situation is a perfect example of why this partnership works - the city helps the students and the students are skilled and ready to be employed.
Major Objectives:
To recognize and promote appropriate behavior, good attendance, and academic excellence.
To promote community awareness of Fort Hill Community School's students, staff, and community
To recognize The City of Lynchburg Public Works and their commitment to student achievement and success.
To continue to "grow our own".  The staff of Public Works and Fort Hill Community School plan to build on the success of the young program.
To provide students with the opportunity to learn employment skills and to provide   Lynchburg City with a pool of applicants for future openings.  Both parties will benefit from the partnership.
Major Activities:
Students will continue to participate in two six-week sessions each school year.
Students will complete job applications and participate in mock interviews with a panel of interviewers.
Students will job shadow technicians, engineers, supervisors, project managers, and other skilled city employees.
Students will participate in a celebration luncheon that recognizes the students for their accomplishments; parents, students, Public Works employees and Fort Hill Community School personnel join to review the strengths of the program.
Students are encouraged to share their experiences and make suggestions for improvement based on their observations.
Evaluation:
Both parties will provide a wirtten evaluation of partnership activities by completing a partnership evaluation form at the end of the school year.
Planning Committee Members:
Partner
Gaynelle L. Hart
Stacy Hopkins-Reynolds
Anthony Johnson
School
Cathy L. Viar
Suzanne J. Mason