Published on Thu., May 23, 2013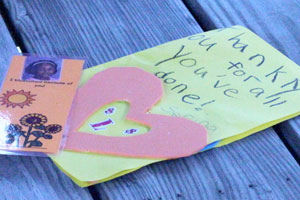 R. S. Payne second graders gathered with their GenPals one final time at their year-end celebration at Genworth this week.
"Overall, it has been a great year for GenPals," said Genworth employee and program coordinator Erin Elliott.  "We find this to be a very positive, encouraging and mentoring type of relationship for the students."
This was Genworth's third year participating in the program where associates are paired with a second-grade student from R.S. Payne. This year's program started at the beginning of year, when GenPals came over to R. S. Payne and were introduced to the second graders. Monthly letters began back and forth, and the GenPals came to have lunch with the children once a month.
On Tuesday, May 21st, they wrapped up the successful year with a celebration at Genworth. They played games out in the field, including kickball, bowling and hula hoop. Each second-grader received a certificate and a Frisbee. Genworth paid for the student transportation.
The program began three years ago when a Genworth employee who had a child at R. S. Payne wanted to get the company employees involved in a partnership with the school. He and principal John Blakely kicked off the project for second-graders as part of a way to practice letter-writing. When the program first began, one associate was paired with two or three students, but the positive results from the program have encouraged greater participation. This year, all 52 second-graders at R. S. Payne had their very own GenPal, and they developed good one-on-one relationships with their mentors.
"They learned to spell and recognize their names and looked forward to their visits," said second grade teacher Kim Beuerle.