Published on Thu., September 12, 2013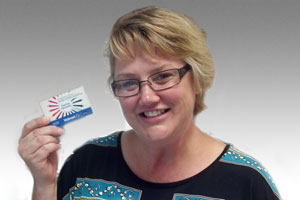 Hutcherson Early Learning Center teachers were surprised during a faculty meeting with gift cards donated by Wal-Mart in September.
Each of the 20 teachers received a $50 Wal-Mart gift card, for a total donation of $1,000, for teachers to use to purchase supplies for their classrooms.
Lynchburg Wal-Mart Manager James Hornsby presented the cards to the Hutcherson staff this year at the school's new location at the recently renovated building at 2401 High Street.  Wal-Mart is an LCS Partner in Education and has surprised teachers at different schools with similar gifts over the past few years.
Earlier this year, volunteers including members of the Heritage High School football team, worked diligently with faculty and staff to ensure the new building would be ready to welcome students for the 2013-14 school year. Community support such as this helps carry out the LCS mission of Every Child, By Name and By Need, to Graduation.