Published on Tue., October 1, 2013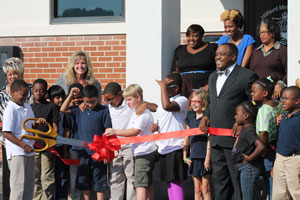 Sheffield Elementary School is excited to welcome the Stitch After School Program to the school division's growing list of Partners In Education (PIE).
A ribbon-cutting ceremony was held to honor this new partnership in September.
This partnership between the Stitch After School Program and Sheffield Elementary is provided to support students academically, socially and in other extracurricular activities.
Major objectives: 
Students will be provided a safe and secure environment and be supervised at all times by a competent and caring staff.
Students will have opportunities to grow academically through Homework Center which will target each child's individual needs.
Students will have opportunities to grow socially by participating in recreational activities with their peers and after-school staff.
Major activities:
The program will provide staff members who serve as tutors for the students' academic needs.
The program will provide academic reinforcement activities to promote student learning.
The program and Sheffield Elementary School will maintain open lines of communication to determine ongoing needs of students.
Sheffield Elementary School will promote the partnership in the community and publicize the partnership through press releases and newsletters.
Evaluation:
All parties will provide written evaluation of partnership activities by completing a partnership evaluation form every other year.
Partnership coordinators:
Dr. Keith R.  Anderson, Executive Director, Stitch After School Program
Ms. Diane Swain, Principal, Sheffield Elementary