Published on Wed., October 2, 2013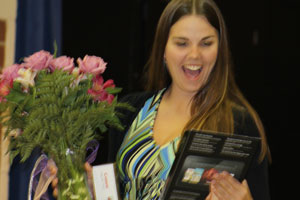 As part of their annual "A Day Made Better" event, OfficeMax associates visited Sandusky Elementary School in October to surprise McKinley Tucker, the SES teacher of the year, with an award and $1,000 worth of school supplies.
Ms. Tucker is among 1,000 teachers nationally who have been nominated by their principals for their extraordinary efforts in the classroom. She was surprised in front of the entire staff and student body during a morning announcement in the school cafeteria. "I feel like Miss America!" she said when she accepted the surprise gifts, which included a new office chair, a tablet and two large boxes full of supplies that she and her students will be able to use in her third-grade classroom.
Ms. Tucker acknowledged her appreciation of her current and former students and fellow teachers and staff members at SES. Principal Mr. Womack said that with such a great staff, it was a very tough decision to pick only one teacher for this honor.
At the end of the presentation, a fellow staff member playfully crowned Ms. Tucker with a tiara.