Published on Mon., August 9, 2010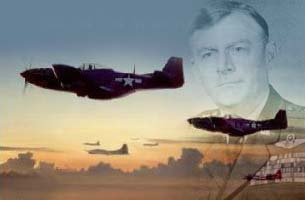 Lieutenant General George G. Loving, Jr. (Ret.) will speak about his 37-year military aviation career on Friday, August, 13, 1:30 p.m. at the Lynchburg Museum, 901 Court Street.
Shortly after graduating from E. C. Glass High School in 1941, Lt. Gen. Loving enlisted in the Army Air Forces. During World War II, he flew 151 combat missions in the European Theater in the famous Spitfire and Mustang fighters. Loving became Lynchburg's first ace in 1944 after shooting down five enemy warplanes.
During his career Lt. Gen. Loving served as Commandant of the Air Command and Staff College, Commander of NATO's 6th Allied Tactical Air Force, Commander of U.S. Forces in Japan, and on a number of high level diplomatic and military assignments including negotiations with the Warsaw Pact. He retired in 1979 as a Lt. General and resides in Williamsburg with his wife.
Lieutenant General Loving is donating his uniforms, flags, medals and other personal items to the Museum. Those items will be on display during the program. Lt. Gen. Loving will also be signing copies of his book, Woodbine Red Leader; A P-51 Mustang Ace in the Mediterranean.
The event is free and open to the public. Refreshments will be served.