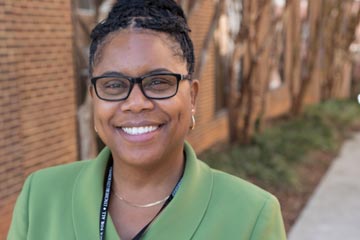 Dr. Crystal M. Edwards, Superintendent
Lynchburg City Schools
915 Court Street
PO Box 2497 Lynchburg, VA 24505
Phone: (434) 515-5070
Email: [email protected]
Dr. Crystal M. Edwards was appointed by the Lynchburg City School Board as the 13th Superintendent of Lynchburg City Schools.
Dr. Edwards has over 30 years of experience in education. She earned a B.S. in Secondary Education from Penn State University, an M.S. in Chemistry from Rutgers University, and an Ed.D in Educational Leadership, Management and Policy from Seton Hall University. She began the first five years of her career as a high school Biology teacher in East Orange, New Jersey. After East Orange, Dr. Edwards spent the next nine years as a high school Chemistry/Biology/Earth Science/Laboratory Techniques teacher in Hillsborough, New Jersey.
In 2001, Dr. Edwards joined the staff of Metuchen School District as the Supervisor of Math and Science, and after two years she moved on to become the Director of Math and Science for the Highland Park School District. Much of her work in both districts focused on raising the academic performance of at-risk students, particularly in the area of math.  
In 2005, Dr. Edwards became the Assistant Superintendent for Lawrence Township Public Schools in New Jersey.  During her time as Assistant Superintendent she accomplished many things with the help of the administrative team and staff including revising the district's curriculum, establishing afterschool math and literacy programs for at-risk students, implementing a district-wide assessment and accountability system in grades K-10, developing career academies at the high school, and writing and being awarded a $1.4 million grant for 1:1 mobile devices for students in grades 6 and 7.
In 2011, Dr. Edwards was appointed as the Superintendent for Lawrence Township Public Schools, with a student population of about 4,000, where she continued to pursue opportunities for excellence. She was instrumental in developing the District's 5-Year Strategic Plan and hosting an annual Community Conversation to gather input and share progress. Through the strategic planning process the community worked collaboratively with the district to increase the graduation requirements, increase enrollment and participation in the arts, institute programs and services to address teenage mental health, build two multi-purpose artificial turf fields, increase the number of students participating in service learning and community service, institute programs to enhance special education and support services, increase the number of parents and families participating in school programs, and craft a $25 million referendum for upgrades in HVAC, facilities and safety and security.