School Hours 

Elementary: 8:40 a.m. - 3:35 p.m.
Middle: 8:00 a.m. - 2:55 p.m.
High: 7:35 a.m. - 2:30 p.m.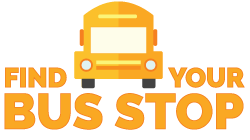 NOTE: The Find You Bus Stop application only works for transportation to schools in your zone. For students attending schools outside their zone, please refer to your Infinite Campus Parent Portal for your child's transportation information, or call our Transportation Department at (434) 515-5100.