Thank you for taking the time to learn more about Lynchburg City Schools and the many opportunities our city has to offer. Whether you are new to the field of education or are a veteran teacher looking for a new place to call home, we look forward to introducing you to our community. Click on the videos below to meet some of our staff and see why they consider Lynchburg a great place to Live, Love, and Teach.
Contact the Personnel Department at (434) 515-5050.
Meet Machelle Berger, High School Teacher
Mrs. Berger is a veteran teacher who has taught for 34 years in Lynchburg City Schools. She spent 16 years at E. C. Glass High School in Lynchburg, and currently teaches at Heritage High School. Throughout her career in LCS, she has been through many changes in technology and curriculum and says that throughout change, she and her colleagues have always worked together to support one another.
Meet Kira Roberts, Elementary School Teacher
Mrs. Roberts has taught in Lynchburg City Schools for seven years. She enjoys living and teaching in the city of Lynchburg because of the great support staff within the school division as well as the great opportunities to connect with students and parents within the community. 
Meet Marie Waller, School Board Member and Former Teacher
Ms. Waller is a Lynchburg City School Board member and a former LCS teacher. She taught many subjects, starting with Social Studies and ending with Advanced Placement courses, during her 43-year teaching career in Lynchburg City Schools. She is a strong advocate for the teachers, staff, and students in Lynchburg.
Meet Jon Roark, High School Art Teacher
Jon Roark has been an art teacher at Heritage High School for 12 years. He will be joining his colleagues in a brand new, state­of­the­art high school building that is opening in Fall of 2016 and is looking forward to what the new school has to offer for the future of education in Lynchburg City Schools. 
Meet the Hoffmans, Elementary School Teachers
When making a career decision, for this family of four, one of the biggest factors under consideration was salary. But when they look at what they would save, not only in dollars, but also in time, the math made sense for them to teach and live in Lynchburg. 
Less traffic saves time; 
Low cost of living saves money;
More time with family improves quality of life;
All this plus the equal convenience of city life.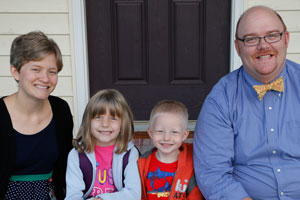 Meet Tracy Proffitt, Gifted Opportunity Teacher
When I arrived in Lynchburg as a college freshman in the fall of 2000, I knew I wanted to be a teacher, but I had no specific plans about where I would teach. Fifteen years later, I am thankful each day that I get to live, work, and raise a family in the beautiful city of Lynchburg.
From my very first practicum placements to my student teaching experience, Lynchburg City Schools stood out as a division of caring and creative professionals.  I was thrilled to join this team as a teacher in 2004. I am surrounded each day by colleagues that are whole­heartedly committed to, "Every child, by name, and by need, to graduation." 
Useful Information
Lynchburg has also proven to be a perfect location for my husband Jay and me to raise our growing family. We like the small town feel we get from running into coworkers, friends, and students on a Saturday morning trip to the Community Market or when out for a bike ride on the Blackwater Creek Trail. We love being so close to the mountains while still within a few hours drive of Washington, D.C. or the beach. Also, we appreciate the choices and opportunities that LCS students have, such as several Schools for Innovation and a strong elementary strings program. Our daughter loves to go to school each day, and we are excited to see her being both nurtured and challenged by her teachers. 
I am both proud and grateful each day to be an LCS employee and parent, and I am so glad that my family calls Lynchburg our home.
-Tracy Proffitt, LCS teacher