Published on Mon., May 18, 2015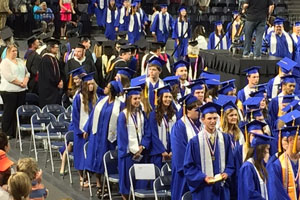 On Thursday, May 14, 2015, nineteen Lynchburg City Schools high school students were the first class to graduate from the LCS Early College Program. They graduated with an Advanced Studies High School Diploma as well as an Associate's Degree from Central Virginia Community College.
The graduation ceremony took place at the Vines Center at 7:00 p.m.
The LCS graduates from the Early College program are below with base school in parenthesis: 
Moriya Calloway (HHS)
Emma Dahlin (ECG)
Rachel Daniels (ECG)
Alessia Duran (HHS)
Hunter Hatch (ECG)
Courtney Hawks (ECG)
Katie Hayden (ECG)
Samuel Hudnall (ECG)
Jason Logan (ECG)
Shirin Mahdavi (ECG) 
Virginia McCarthy ((ECG)
Alicia McCray (HHS)
Ronnie Pazmino (HHS)
Jacob Petrie (HHS)
Alannah Richardson  (ECG)
Katherine Simonton (ECG)
William Sweeney (ECG)
Katherine Walker (HHS)
Diamond Jones (HHS)
These students will be attending colleges including Carnegie Mellon University, Christopher Newport University, Eugene Lang College, George Mason University, James Madison University, Lynchburg College, University of Alabama, University of South Carolina, and Virginia Tech.