Published on Tue., November 17, 2015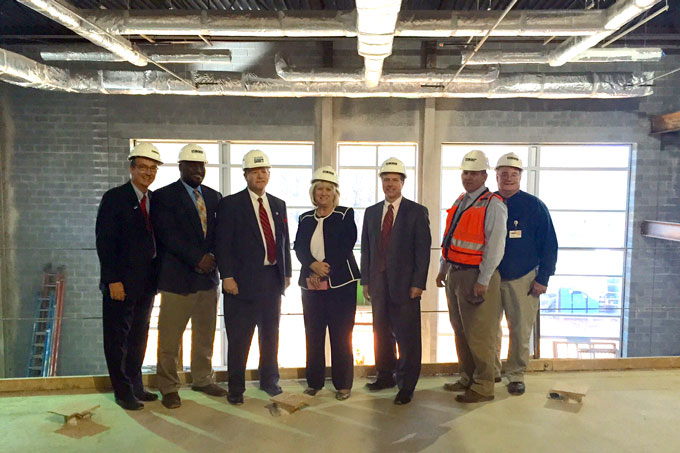 On Wednesday, November 11, 2015, Lynchburg City Schools took three area legislators on a tour of the Career Tech program and the new Heritage High School, which is on track to open for students in the fall of 2016.
Delegate Kathy Byron, Delegate Scott Garrett, and Senator Steve Newman met with Superintendent Scott Brabrand and members of his administrative team for a quick tour of the current Heritage High School Career Tech wing. The legislators met students and teachers in the LCS Cyber Security, Building Trades, and Certified Nurse Aide classes.
Following the tour of the current school, legislators got an up-close look at what's in store for the future of HHS as they went on the construction site of the new, state-of-the-art building that is designed to meet the educational standards of 2015. Among a few of the highlights for the new school include the addition of a school-based culinary arts class and an engineering design and technology class. Each core content classroom will contain flexible furniture and technology to support 21st Century education.
Other highlights of the new building include:
6,800 square foot media center
28,000 square foot field house (gym)
12,500 square foot auditorium
All classrooms located on two levels with natural lighting in every classroom
Administration centrally located in between classrooms and auditorium/gym space
This was the first time area legislators had been on the new building site, and the tour proved to be informative and beneficial, while giving LCS an opportunity to showcase the positive impact the new building will have on the students and community of Lynchburg.