Published on Mon., January 25, 2010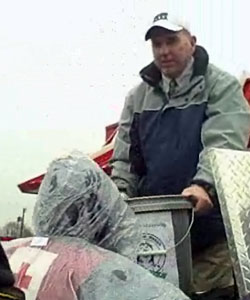 As Bedford Hills Principal Rob Quel took his own children to school on Wednesday he was struck by a message on the radio – Penny Pick-up for Haiti. K-92 DJ's were collecting pennies to go towards the relief effort in Haiti. The entire MediaSpan radio group, which also includes VIBE 100, were collecting those pennies just a few minutes from Bedford Hills, at the McDonald's on Wards Road. Mr. Quel and his students were looking for a way to help the victims of the Haitian earthquake and, thanks to that early morning radio announcement, they found their answer. 
During Wednesday's morning announcements at school, Mr. Quel challenged his students to bring in as many pennies as they could to school on Thursday.  And the students took the request to heart. On Thursday, staff and students managed to bring in an estimated $1400 worth of change (that is 166 pounds of money!!!). After school, Mr. Quel, with the help of several staff members and students, lugged buckets of change to McDonald's. The folks from MediaSpan were so touched by the generous donation the students got a shout out on the radio. 
All the money has gone to the Red Cross relief effort in Haiti.