Published on Mon., February 22, 2010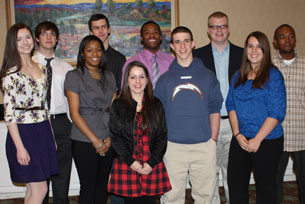 Ten students from Lynchburg City Schools were honored by The Optimist Club of Lynchburg for their dedication to their Career – Technical Education in Lynchburg City Schools in February. Most of these students plan to go to college next year and, as recognized by the Optimist Club of Lynchburg, plan to take a positive outlook with them.
Each student received a certificate of recognition and a $50 gift certificate to Given's Books for their hard work. By recognizing the hard work of these students, the Optimist Club hopes to encourage each student to continue down a positive school and career path.
The winners are listed below:
Robert Blade – Heritage High School, Building Trades
Dexter Bowling – E. C. Glass High School, Nuclear Technology
Christal Davis – Heritage High School, Dental Careers
Leah Embrey – E. C. Glass High School, Engineering
Chirs Harper – E. C. Glass High School, Precision Machining
Bobby Jones – Heritage High School, Marketing
Antigona Kastrati – E. C. Glass High School, Cooperative Technical Education
Jesse Patterson – Heritage High School, Business
Anna Stevens – E. C. Glass High School, Culinary Arts
Donald Volk – Heritage High School, Computer Systems Technology