Published on Mon., March 22, 2010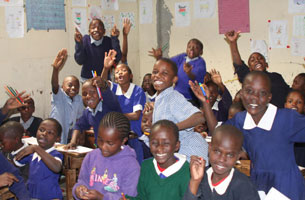 A group of E. C. Glass students and staff hope that someone's trash will become another person's educational opportunity.
The school's Mercy Care Council, along with the National Honor Society are collecting items for a garage sale. The proceeds from the sale will go toward the Mercy Care Centre School in Nairobi, Kenya. Mercy Care School is the "sister school" of E. C. Glass. The school's Mercy Care Council has been working closely with the Nairobi school for several years now, making sure students and staff have the appropriate learning materials.
The council asks that all items be clean and in good repair. These items can be brought to the main office at E. C. Glass. The garage sale will be held on May 29, 2010.
In addition to the garage sale, students, teachers and parents associated with the Mercy Care Council are preparing for a trip this summer to the Nairobi school. They are collecting supplies to bring with them on the trip. The following items are needed: washcloths, cotton underwear, pencils, erasers, small pencil sharpeners, small bars of soap, new or gently worn shoes, soccer equipment, and used suitcases to carry the supplies.