Published on Thu., April 1, 2010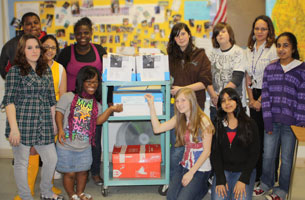 The student leadership of Sandusky Middle School raised money and supplies for the victims of the earthquake in Haiti. The students collected $450 by selling homemade cupcakes to staff and students, and held a supply drive to collect everything from toys to clothes for the children of Haiti.
On March 24, 2010, a representative from Gleaning for the World stopped by the school to thank the students and collect the donations. Gleaning for the World is an aid organization that collects and distributes supplies to areas afflicted by disaster throughout the world. During their visit to Sandusky, they thanked the students and said that their monetary donation would go a long way in feeding the victims of the earthquake.