Published on Mon., May 3, 2010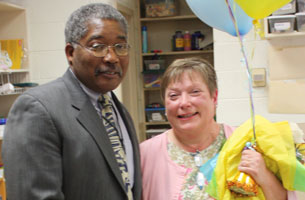 Jan Wiley says she learned everything she knows about teaching from her parents. The big lessons Ms. Wiley learned – never stop learning and always listen. Unfortunately, neither of Ms. Wiley's parents finished high school, but both made sure she got all the way through college. 
Thirty-three years later Ms. Wiley has become Lynchburg City School's teacher of the year. As fellow teachers, school administrators, the local media and Superintendent Paul McKendrick walked through her classroom door to give her the good news on April 29, 2010, all Ms. Wiley could squeak out through her tears of joy were "I wish my parents were here to see this!"
Ms. Wiley, a teacher based at Hutcherson Early Learning Center, has dedicated her career to Lynchburg City Schools, teaching special education for the great majority of her 33 years with the division. Now she will go on to compete for the title of Region Five teacher of the year. As an extra bonus, Ms. Wiley will also receive a brand new car from Mabry Automotive. She will get to lease the car, free of charge, for a year.