Published on Mon., May 3, 2010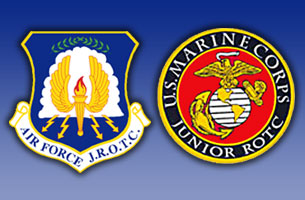 The E. C. Glass JROTC Drill Team has won the state championship.On Saturday, April 24, 2010 the Glass team competed against 21 other drill teams from across the state. The team defeated three time defending champion Western Branch High School from Chesapeake to win the championship. Glass was the only team to score within the top seven places in every event.
Cadets Michael Hale and Jordan Moshkowski led the team to first places finishes in the Color Guard and Inspection categories. Other wins for EGC JROTC during the competition included:
Unarmed Exhibition – 3rd place (under the direction of Cadet April Bateman)
Armed Regulation – 4th place (under the direction of Cadet Shawn Cording)
Unarmed Regulation – 6th place (under the direction of Cadet Shawn Cording)
Armed Exhibition – 7th place (under the direction of Michael Hale)
The team leaves this Thursday for Daytona Beach, Florida to compete in the National High School Drill Championships.
The Heritage High School Drill Team placed third in the state.
Meanwhile, the HHS MCJROTC Rifle Team has qualified for the state competition. The team finished fourth in the Western Region Competition on Friday, April 16, 2010 at the Bedford Science and Technology Center. The team will now go on to the American Legion Department of Virginia 3-Position Air Rifle State Finals in Charlottesville.
We wish them luck!