Published on Fri., June 11, 2010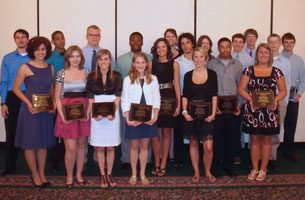 E.C. Glass seniors Sydney Bolton and Dexter Bowling, Jr., and Heritage seniors Bobby Jones and Victoria Meadows received The Greater Lynchburg Community Trust Citizenship Award for their diligence and grantsmanship in the organization's Youth Philanthropy Program. The awards were presented at a reception held at The Kirkley Hotel in April. The four students were among twenty seniors who participated in the Seventh Annual Youth Philanthropy Program, administered by The Greater Lynchburg Community Trust. The program is designed to emphasize the importance of philanthropy and service in the community.
The students reviewed grant applications from twenty four area agencies competing for a $10,000 grant and a $5,000 grant. The students, along with adult advisors, met several times during the year and conducted site visits at many of the agencies. Following considerable analysis, carefully planned presentations, arguments, and conversations regarding the merits of the various agencies' programs, the group selected YWCA of Central Virginia for the $10,000 award and Churches for Urban Ministry for the $5,000 award. These awards were made possible through the generosity of Wachovia Foundation and Mr. and Mrs. George Ramsey.
The Greater Lynchburg Community Trust was established in 1973 and exists to promote local philanthropy and to simplify the process of planned giving. The Community Trust receives and manages permanent gifts for the benefit of the citizens of the cities of Lynchburg and Bedford and the counties of Amherst, Appomattox, Bedford and Campbell. Needs served are broad in scope including human services to children, youth, the needy and the elderly; education; health; the arts; and the humanities.
The Greater Lynchburg Community Trust currently has 157 named funds and an unrestricted fund, with assets of $27 million. The Community Trust currently makes grants of over $1.3 million annually in our community. It is one of approximately 700 such community foundations across the nation rendering a valuable service both to the regions they serve and also to donors interested in the present and future of their communities.