Published on Tue., August 24, 2010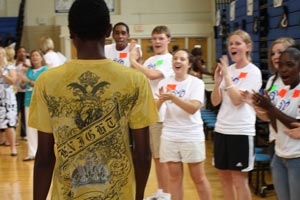 Walking into high school for
The.
Very.
First.
Time.
Do you remember what it was like?  Some students are scared, others are excited, most are just plain nervous – unsure of what the day (let alone the year) holds for them. But this year, The Link Crew, aimed to make the transition to high school a little easier for E. C. Glass' class of 2014.
Made up of upper classmen, The Link Crew, greeted freshmen at orientation in late August by making a human tunnel – clapping and cheering the newest Hilltoppers as they came through the doors.
The Link Crew, which is affiliated with the Boomerang Project (www.boomerangproject.com), trained junior and senior class members to be "Link Leaders."  The Link Leaders will be positive role models, motivators, leaders and guides to the freshmen. Ultimately, the student to student mentorship hopes to help freshmen not only make a smooth transition from middle school but have a successful year as well.
Studies show that if students have a positive experience their first year in high school, their chance for success increases dramatically.
Throughout the year there will be various activities that The Link Crew will sponsor for Glass students.