Published on Wed., September 15, 2010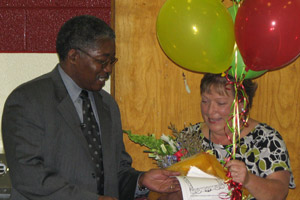 Jan Wiley, a special education teacher for Lynchburg City Schools' Hutcherson Early Learning Program is Virginia's Region Five Teacher of the Year. On September 15, 2010 administrators, her colleagues and her husband surprised her at school with letters of recognition from Governor McDonnell and the Commonwealth's Superintendent of Public Instruction.
In April, Mrs. Wiley received the school division's Teacher of the Year honor. Shortly after winning, Mrs. Wiley was interviewed, along with 19 other division level winners, for regional honors by a panel of educators from across the state. Along with Lynchburg, region five includes Harrisonburg, Charlottesville, Waynesboro, Staunton, Lexington, Buena Vista and Bedford City along with 13 counties.
All eight regional honorees will meet in Richmond on October 15th to interview for the state honor. That night the candidates will attend a banquet at which the state's winner will be announced.