Published on Fri., October 29, 2010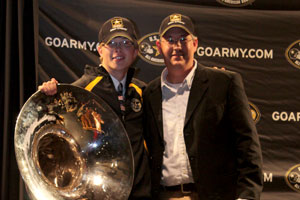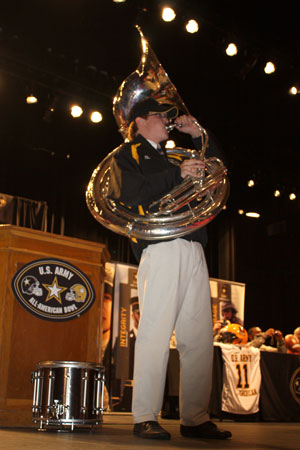 On Friday, October 29, 2010 the U. S. Army All-American Marching Band Selection Tour paid a visit to E. C. Glass High School to announce the selection of a student to their national band. E. C. Glass senior Matthew Knopp will play the tuba with the All-American Marching Band on January 8, 2011 during the U. S. Army All-American Bowl at the Alamodome in San Antonio, Texas. The game will be televised live on NBC.
"The U. S. Army has a long musical history and being an Army musician is one option the All-American Bowl showcases to young Americans," said Col. Derik Crotts, Director of Strategic Communications, Marketing and Outreach, U. S. Army Accessions Command. "The mental, emotional and physical qualities necessary to be a successful band member are the same qualities mirrored in Army Strong Soldiers. We are proud to honor all of our U. S. Army All-American Band members and congratulate them on their selection."
Matthew Knopp has been playing the tuba since middle school. He credits the great instruction of his Lynchburg City School music teachers over the years for his success. "If you said to me in eighth grade that I would be standing here now, accepting this honor, I would not have believed you.  If you told me six months ago, that I would be here right now, I wouldn't have believed it," Knopp said during the selection ceremony.
The five U. S. Army All-American Bowl Selection Tour teams travel across the country from late September to mid December to announce all 90 players and 125 marching musicians to the U. S. Army All-American Bowl. On October 29th it was Knopp's day. In front of his band mates, teachers and family he was presented with a U. S. Army All-American Jacket, baseball cap and marching band hat.
Although not a requirement for the honor, Knopp has enlisted in the U. S. Army National Guard and will begin training with 29th Infantry Division upon his graduation from E. C. Glass.