Published on Fri., January 21, 2011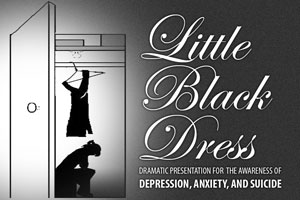 Update: The original performance planned for Thursday January 27th has been rescheduled due to winter weather conditions. Make-up time and date to be determined.
Kim Kittrell, along with the Lynchburg City School Division, invites the public to a free performance of "Little Black Dress" at in the Civic Auditorium at E. C. Glass High School. Ms. Kittrell has used this play as a vehicle to educate the public about depression and suicide. Her daughter, Brittney Edwards Kittrell was a 2005 graduate of E. C. Glass. In her senior year at George Mason University, Brittney committed suicide, leaving behind her fiance', family and friends. 
"Little Black Dress" was written and produced by Jennifer Petticolas, a former E. C. Glass employee. Following the play a panel will make closing comments regarding suicide prevention.
There will be two performances of the play on January 27th. Eleventh and twelfth graders will watch the play at 9 a.m. and the general public is invited to view the play at 7 p.m. The media is invited to attend at either time.  Please call the Public Information Office at (434) 522-3786 for more information.
Click here to learn more about The California Girl Scholarship Endowment in memory of Brittney Kittrell.