Published on Fri., April 29, 2011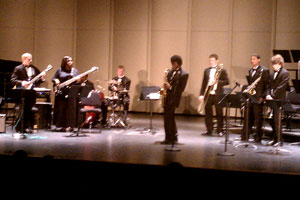 The E. C. Glass Jazz Labs performed in the Lynchburg College Jazz Festival in April. Students played their original arrangements along with solo numbers composed by jazz greats Herbie Hancock and Duke Ellington. The jazz festival gave students the opportunity to hear other musicians throughout the area. Jazz bands from several other high schools around the region participated, as well as the Lynchburg College Jazz Ensemble. 
You can experience the E. C. Glass Jazz Labs this May during their annual "Jazz Night." Stay tuned for details.