Published on Tue., May 3, 2011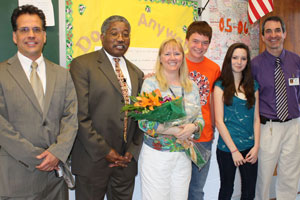 Recently, school administrators surprised the division's Teacher of the Year in her classroom. Meg Smith was selected by a group of her peers, to represent the Lynchburg City School division in the regional Teacher of the Year competition. Mrs. Smith has been a teacher at Dunbar Middle School for Innovation for seventeen years as well as a leader for aspiring teachers on the collegiate level.
Currently, Mrs. Smith teaches English at Dunbar. She uses a variety of teaching styles to ensure that she reaches every student. In his recommendation letter, Dunbar Principal Brian Wray said Mrs. Smith "establishes a warm classroom climate and yet is able to be firm when appropriate. She is an excellent example of the 'warm demander' standard we have at Dunbar."
Along with her duties as middle school teacher, Mrs. Smith also serves as a cooperating teacher at area colleges. In fact, Mrs. Smith was selected to be a clinical faculty member at Randolph College in which she created and taught a course for pre-service teachers.
Mrs. Smith says her key to success is simple--create active learners, keep parents engaged and continue to improve as a professional. She says she leads by example and, as a result, "the specific knowledge and skills the students have learned are often equaled by the student's growing commitment to success, a commitment we hope will continue throughout their lives."