Published on Fri., February 20, 2015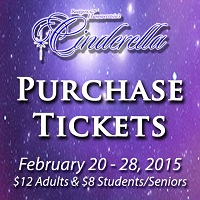 The opening for E.C. Glass Theatre's performance of Rodgers and Hammerstein's Cinderella has been rescheduled for Sunday, February 22, 2015.  The new show times are as follows:
Sunday, February 22nd, 2:30 p.m.
Tuesday, February 24th, 7:30 p.m.
Wednesday, February 25th, 7:30 p.m.
Thursday, February 26th, 7:30 p.m. (ASL Interpreted)
Friday, February 27th, 7:30 p.m.
Saturday, February 28th, 7:30 p.m.
All tickets purchased in advance will be honored at any show! 
Character Breakfast at the Depot Grille will happen on Saturday, February 28th at 8:00 a.m.  
NOTE:  If the matinee on Sunday the 22nd is cancelled due to more inclement weather, a 4:00 p.m. performance will be added on Sunday, March 1st.