Published on Mon., April 13, 2015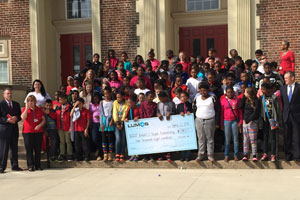 Lumos Networks has donated $4,800 to R. S. Payne Elementary School so that the fourth- and fifth-grade base students can take a trip to Jamestown. This generous donation allows students to be able to experience in person what they have learned in Virginia Studies. 
Lumos representatives Dan Overstreet, John Coleman, and Leonard Frye were greeted with applause from students and teachers as they presented the check during an assembly in April.
Lumos Networks has partnered with LCS and R. S. Payne since 1999 in various technology and communication initiatives.