Published on Mon., April 27, 2015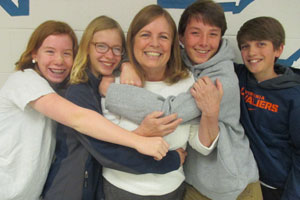 Linkhorne Middle School history teacher Jeanne Skinner was honored with the junior level (grades 6-8) Teacher of the Year award at the annual Virginia History Day contest in April. She was awarded $500 and is now eligible to compete for the national award. National winners receive $10,000.
Ms. Skinner's students, former students, and parents of students spearheaded her nomination and assisted in writing the essays about why she should be considered for the award.
To be eligible for the award, a teacher is nominated by the National History Day coordinator and must meet certain criteria, including the "development and use of creative teaching methods that interest students in history and help them make exciting discoveries about the past."
Two E. C. Glass students also placed at the competition:
Katie Morse, Walt Disney leadership and legacy in entertainment, 2nd place, Senior Individual Performance.
Sydney Walker, Lincoln's Leadership Legacy: Mobilizing a Divided Nation, 3rd place, Senior Individual Exhibit