Published on Mon., May 18, 2015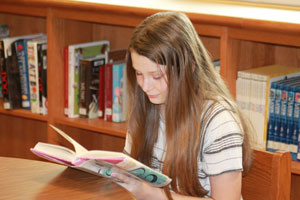 Eighth grader Abbey Kirkwood broke Dunbar Middle School's Accelerated Reader record, earning 1,812.2 points for the year. Three years ago former DMS student Andrew Patterson shattered the school's previous record, which had been sitting for years at 1,400. Most years the top scorer is under 1,000 points.
Abbey is involved in a variety of activities including major roles in DMS theatre productions, band and orchestra, and swimming, yet still manages to be an avid reader who also excels academically. During her participation in the school's latest play Chitty Chitty, Bang Bang, Abbey would read in between breaks in rehearsal. She also takes Spanish at Dunbar and even took the Harry Potter AR test in Spanish instead of English.
Carrie Dodge, the school's librarian, says students at Dunbar are increasingly more motivated to read and compete against each other with AR points. She says many students stop by the library before and after school to take the tests, which evaluate how well students retain and understand what they have read.
"Abbey has worked really hard, and it is amazing what she has accomplished in just one school year," said Mrs. Dodge. The cutoff to earn more AR points ended on May 15th, but Abbey's love for reading continues. She is currently reading The Hobbit.