Published on Tue., August 15, 2017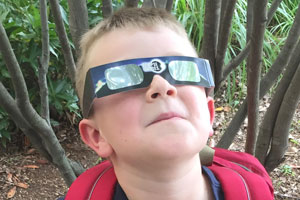 Lynchburg City Schools is very excited to announce that the LCS Education Foundation is purchasing 10,500 pairs of ISO rated and CE certified solar eclipse glasses for all LCS students, faculty, and staff to enjoy the safe viewing of the August 21, 2017 partial solar eclipse. This very special experience is sponsored by Genworth through the LCS Education Foundation's Classroom Innovation Grants program.
Science coaches at both the elementary and secondary levels worked throughout the summer to develop resources for LCS teachers, including safety instructions, the science of the eclipse, and activities for each grade to maximize their eclipse experience before, during, and after the event.
Schools will be able to make arrangements to accommodate anyone who wants their child to opt out. Parents and guardians, please contact your child's school by 2:00 p.m. on Friday, August 18th to let them know you do not want your child to view the eclipse.
This is an amazing opportunity to build school spirit and enjoy this very rare astronomical event. LCS is proud of the community support that provides solar glasses for everyone at Lynchburg City Schools. 
VIEWING THE ECLIPSE SAFELY

A solar eclipse occurs when the moon blocks any part of the sun. On Monday, August 21, 2017, a solar eclipse will be visible (weather permitting) across all of North America. The whole continent will experience a partial eclipse lasting 2 to 3 hours. Halfway through the event, anyone within a roughly 70-mile-wide path from Oregon to South Carolina will experience a brief total eclipse, when the moon completely blocks the sun's bright face for up to 2 minutes 40 seconds, turning day into night and making visible the otherwise hidden solar corona—the sun's outer atmosphere—one of nature's most awesome sights. Bright stars and planets will become visible as well.
Click here for tips on viewing the eclipse safely.
Click here for a video on the history of the eclipse.