Published on Tue., February 23, 2010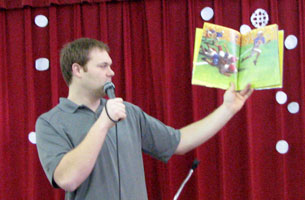 When a 6'7'', 315 pound offensive lineman walks into your school and starts talking, you listen; you may even want to take a few notes. In February, the students at Sheffield Elementary School were all ears when former University of Virginia standout and Buffalo Bills player Brad Butler paid them a visit.
Butler's visit was a very pleasant one actually. It was probably a visit that will go down in the personal history books for most of these kids. The NFL star talked about confidence, achieving goals and appreciating failure.
The message scored a touchdown with most of the Sheffield students – after all, they had something in common with the big guy that put them all on the same playing level – an Alma matter. Yes, Butler is a proud graduate of Sheffield Elementary and wanted to give back to his school. These kids met an NFL athlete that came from the same playground they did and that fact alone gave them the confidence they needed to succeed.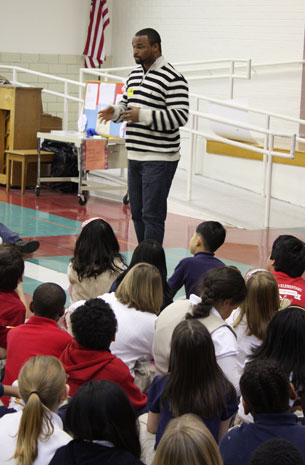 The pep talk was just a bonus.
So you might call what happened next a "double bonus" (pardon the unintentional basketball reference) – a visit from Detroit Lions running back Cedric Peerman. Peerman, a graduate of William Campbell and UVA, stopped by a few days after Butler's visit to give the students a second helping of encouragement. He wanted to stress that not everyone is built to play football. He instead encouraged the students to find their strengths and work hard to build upon those strengths. He also stressed the importance of education and surrounding yourself with good people.
The students of Sheffield were happy that these two football players made LCS part of their game plan on the off season. They will remember the visits for years to come.