Published on Fri., May 14, 2010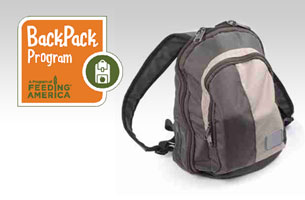 When children leave school for the weekend, the last thing they should worry about is having enough to eat. Unfortunately, hundreds of children in our part of Virginia are at risk of going hungry when they leave school grounds. The BackPack Program is a national initiative that ensures children at risk of hunger have food to eat when school-based resources are not available, such as weekends and school vacations. Children who are at risk of going hungry receive backpacks full of nutritious foods each Friday and the day before a school vacation begins. If it were not for the BackPack Program, many of these children would go hungry when school doors are closed.
HOW IT WORKS
The Food Bank selects elementary school children who receive free and reduced-price school lunches through the National School Lunch Program
The program is hosted by schools with a 50% or greater participation in the National School Lunch Program.
At the beginning of the school year, participating elementary schools send permission slips to the parents of children who qualify for the National School Lunch Program and offer them the opportunity to receive backpacks.
On a weekly basis, volunteer groups pick up food from the Food Bank, pack the backpacks and deliver them to the school.
School staff provide the students with backpacks to take home at the end of the day each Friday or the last day before a school vacation. Students return the packs on Monday, which volunteers re-pack for that week.
The Blue Ridge Area Food Bank launched its BackPack Program in the fall of 2006 at Craigsville Elementary School with 90 children. The program has grown tremendously and is operating successfully in nine of our 34 jurisdictions, providing 2,040 children with nourishing food this school year.
INSIDE THE BACKPACK

Inside a typical backpack, you will find child-friendly, nonperishable, and vitamin-fortified. All cans are easy-open, pop-top containers.
Food items include: Tuna, beef stew, fruit cups, cereal boxes, 100% juice boxes, shelf stable milk, and peanut butter.
BACKPACK PROGRAM LOCATIONS
Albemarle (2 sites)
Amherst
Augusta
Campbell (2 sites)
Fluvanna
Harrisonburg
Loudoun (2 sites)
Lynchburg (beginning fall 2010)
Waynesboro (2 sites)
Winchester (2 sites)
HOW TO HELP
Your gift of $17 a month will fill a backpack for one child for an entire school year.
To learn more about the BackPack Program, or if you are interested in helping us establish new host schools, contact the Lynchburg Area Branch of the Blue Ridge Area Food Bank at (434) 845-4099 or at www.brafb.org.