Published on Mon., May 17, 2010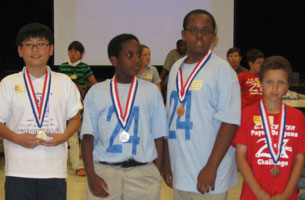 The second annual 24 Game Division Wide Math Challenge brought the best number crunchers head to head. Students from each of the 11 elementary schools competed at E. C. Glass High School for the title of "Champion".
The 24 Game is one of the newest editions to the elementary math curriculum. The objective is to encourage quick recall of basic math facts and to promote mental computation. Each school entered their best players into this division wide challenge. Four came out on top.
Congratulation goes out to the following winners:
First Place: William Kang – Sandusky Elementary School
Second Place: Isaiah Henry – Bass Elementary School
Third Place (tie): Micah Davis – R. S. Payne Elementary School
Third Place (tie): Esmond Jalen Coleman – Bass Elementary School