Published on Thu., June 10, 2010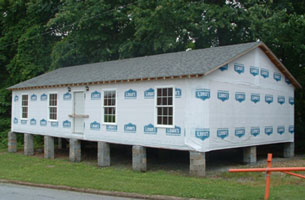 Lynchburg City Schools will be accepting sealed bids on the Heritage High School student built house.
50'-0"x24'-8" house consist of 3 bedrooms, 2 full size bathrooms, a large kitchen and living room. Home is wired for cable and telephone. Kitchen and bath cabinetry installed with post formed countertops. Roof is a fold down design for easy transportation.
House is sold as is and Lynchburg City Schools makes no warrantees expressed or implied.
Bids will be received until but no later than noon Monday, June 21, 2010.
Minimum bid will be $35,000.00 and bids will need to include a 10% deposit check with your bid, refundable to unsuccessful bidders.
Please contact Jerry Dudley at Heritage High School 582-1147 or Ed Dellinger at the Administration building 522-3700 for inspection of home and a complete copy of the terms and conditions.