Published on Tue., September 28, 2010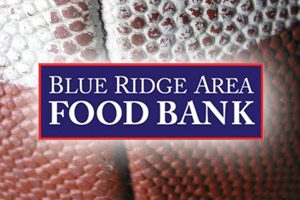 On October 15, E. C. Glass and Heritage High Schools will take to the field to hash it out during the Hill City's most anticipated football rivalry of the season.  But did you know that off the field the two teams are working together for the greater good of the community?
Players from both teams are working with the Blue Ridge Area Food Bank to collect turkeys for families this holiday season.  Their "Turkey Challenge" began on September 15 and will end on game day – October 15.  The ultimate goal is to collect 300 turkeys.  The teams are collecting donations of $15 (or more) - the cost of a turkey.
Everyone who donates will receive 2 tickets to the football game and a goodie bag.  On game day, the Blue Ridge Area Food Bank will bring a freezer truck to the football field to collect turkeys.  If you would rather donate a turkey, bring a bird to the game.
Lynchburg's Blue Ridge Area Food bank serves roughly 15,000 people each month, more than 4,000 of whom are children.  The director estimates that they will provide 1.9 million meals this year.  That is an increase of 400,000 from last year.  The football players from E. C. G. and H. H. S. are working together to make sure everyone in our community has food on the table this holiday season.  To donate, contact Mark Storm at Heritage High School, 582-1139 or Chip Berry at E.C. Glass, 522-3726.