Published on Tue., November 9, 2010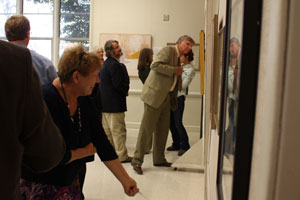 E. C. Glass High School holds 152 original pieces of art dating back to 1895. A newly formed group called Friends of the E. C. Glass Art Collection is reviving the collection to celebrate, preserve, and promote it. The group also plans to use the collection to benefit Lynchburg City Schools' students. The organization consists of current E. C. Glass students, alumni, faculty, and other interested Lynchburg citizens.
On Sunday, November 7, 2010 The Friends held a free open house for the public to view this collection. The exhibit is entitled, "The E. C. Glass Art Collection: A Rich History, Recent Discoveries, A Brilliant Future." This is the first exhibition of the collection in 25 years. In fact, thirty-five paintings have been identified as needing repair, reframing and cleaning. During the November open house, donations were collected to help repair these works. And in the future, the Friends of the E. C. Glass Art Collection will expand the use of this unique asset to generate income for the benefit of all Lynchburg City School students, and the art in the collection will continue to be used to educate our students about art, literature, history, and culture – enhancing the State of Virginia's Standards of Learning objectives.
If you would like to make a tax-deductible contribution to Friends of E. C. Glass Art Collection, to help ensure that this fine collection of art continues to be a vital and integral part of our school system and our community at large, you may send your contributions to:
Friends of the E. C. Glass Art Collection
P. O. Box 3533
Lynchburg, VA 24503
434-522-3712