Published on Thu., December 9, 2010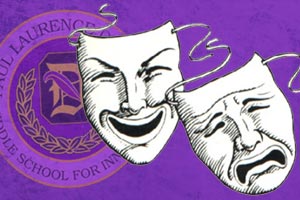 Paul Laurence Dunbar Middle School for Innovation has received the top rating of Gold in the Virginia Theatre Association's Young People's Theatre Festival for the sixth year in a row. The festival was held in November in Harrisonburg at Skyline Middle School.  Thirteen schools competed from across the Commonwealth. Dunbar's students performed SCHOOL HOUSE ROCK LIVE! JR. directed by Albert Carter. The show is based on the Saturday morning cartoon shorts that set learning to popular music.
Two cast members, Miyah Boyd and Elena Roberts, received student recognition awards. Also Meagan Kenney was singled out by the judges for her solo in the show.
Mr. Carter who directs the choral and theatre programs at Dunbar is very proud of the hard work and commitment of his students. Dunbar was the only school this year to perform a musical with solos and dancing (including a tap number) in the competition. "Each school can choose any play to perform and I wanted to give our students a challenge;" said Carter "they didn't let me or themselves down." 
Now the theatre program is accepted to the 2011 Junior Theater Festival in Atlanta, Georgia.  The festival will be held January 14, 15 and 16 and will be attended by over fifty schools and organizations from across the globe.  Dunbar students will perform fifteen minutes of their "gold plated" SCHOOL HOUSE ROCK LIVE! JR. The performance will be judged by professionals in the industry, many of whom work on Broadway. The casts will receive feedback and pointers from the judges.  In addition students will be able to participate in workshops being held by professionals in various subjects like acting, choreography, dance, and technical theatre.In these activities, talent scouts will observe and some students may receive an invitation to audition for future projects with Music Theatre International. MTI is one of the world's leading dramatic licensing agencies, granting schools as well as amateur and professional theatres from around the world the rights to perform the largest selection of great musicals from Broadway and beyond.