Published on Thu., February 24, 2011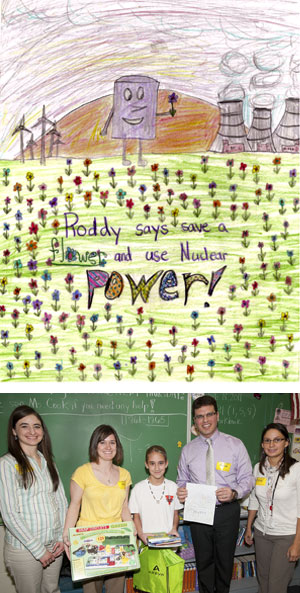 AREVA NA-YGN members Bethany Petrochko, Rachel Hix, Hasan Charkas and Margarita Villa presented Paul Munro Elementary School fifth grader Anne Spengler with the award for second place in the 2010 National NA-YGN Drawing Contest.  The North America Young Generation in Nuclear, or NA-GYN, is a group that unites young professionals who believe in nuclear science and technology and are working together throughout North America to share their passion for their industry.  
"I cannot explain my feeling each time I go out to the community and help out at an event," said former NA-YGN president in Lynchburg, Hasan Charkas. ""The smile and the excitement on the faces of Seth, Anne, and Anne's parents today were priceless." Anne's drawing depicts both nuclear and wind power with the key phrase:  "Roddy says save a flower and use Nuclear Power!"  Roddy is a mascot for NA-YGN. AREVA is a world leader in nuclear power and is a growing player in the renewable energies business, all of which are carbon-free energy sources.
In addition, Paul Munro Elementary School fifth grader Seth Oliver was presented with the award for third place in the local NA-YGN/AREVA Drawing Contest.