Published on Tue., March 15, 2011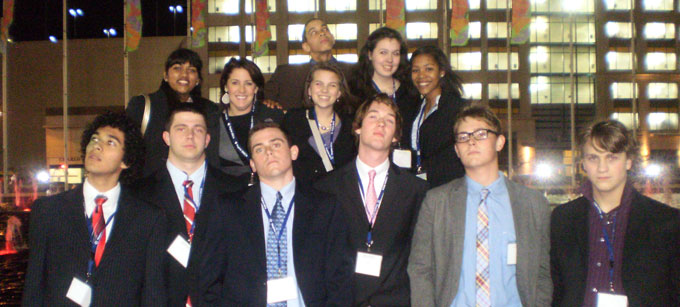 A team of marketing students from Heritage High School is going to the International Career Development Conference, or ICDC, after taking top honors at the State Competition. The State DECA Leadership Conference was held in downtown Norfolk in February.
The following Heritage High School students placed during the state event:
Griffin Spencer - 2nd place overall (out of 66) in Principles of Marketing
Natasha Chowdry & Matt McDaniel - 4th overall (out of 44) in Business Law & Ethics
Brittany Adams & Marco Bustamante - 2nd overall (out of 63) in Buying & Merchandising Team Event
Eric Morris-Pusey - 2nd overall (out of 63) in Retail Management
Chris Anderson - 9th overall (out of 59) in Hospitality & Lodging Marketing
Tyler Molihan - 9th overall (out of 57) in Automotive Services Marketing
Nick Comerford - 9th overall (out of 66) in Sports & Entertainment Marketing
Griffin Spencer, Natasha Chowdry, Matt McDaniel, Brittany Adams, Marco Bustamante, and Eric Morris-Pusey will compete at the ICDC in Orlando, Florida from April 30-May 3, 2011. Fifteen-thousand marketing students from across the U.S., Canada, Guam, China, Germany, and Puerto Rico will participate in the international competition. 
In addition, Chris Anderson was asked to attend the Senior Management Institute. Tyler Molihan was accepted to the Leadership Development Academy. And Nick Comerford has been asked to serve on the campaign for Virginia's National DECA officer candidate as a voting delegate.
DECA is an association of marketing students that prepares emerging leaders and entrepreneurs in marketing, finance, hospitality and management in high schools and colleges around the globe.