Published on Fri., March 16, 2012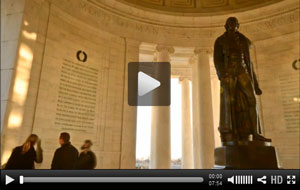 A pair of Central Virginia Governor's School students were second-prize winners in the 2012 C-SPAN StudentCam contest.
Heritage High School's Andy Locascio partnered with Drew Precious of Jefferson Forest to film the documentary "America Over Time." The duo will be interviewed over Skype by C-SPAN, and the interview will air on Tuesday, April 24, 2012.
The film can be viewed at www.studentcam.org. It includes interviews with Rep. Bob Goodlatte and Civil Rights Activist Virgil Wood. Making the film took about two weeks of intense work, plus a lot of planning ahead of time.
C-SPAN chose 75 winning videos out of more than 1,000 entered in the competition. More than 2,000 students from 43 states, Washington D.C. and Puerto Rico competed.
The filmmakers of the winning documentaries will share in a total of $50,000 in cash prizes.