Published on Thu., January 8, 2015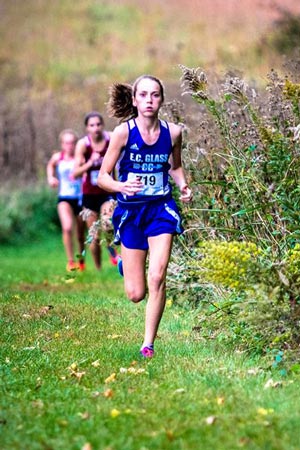 E. C. Glass High School sophomore distance runner Libby Davidson joins an elite list of top athletes across the nation as the Gatorade Virginia Girls Cross Country Runner of the Year.
Now a finalist for the prestigious national award to be announced in January, Davidson joins an distinguished alumni association of past state award-winners in 12 sports, including Ryan Hall (1999-00, 2000-01, Big Bear HS, Calif.), Derek Jeter (1991-92, Kalamazoo HS, Mich.), Candace Parker (2001-02, Naperville Central HS, Ill.), Abby Wambach (1997-98, Our Lady of Mercy, N.Y.) and Mark Sanchez (2004-05, Mission Viejo HS, Calif.).
Libby recently won her second consecutive state cross country title and finished sixth in the Footlocker national high school championships.
Libby was nominated by her cross country coach Gerard Salmon. She is being recognized not only for her athletic abilities, but her academic excellence and exemplary character as well.
Libby has maintained a 4.22 weighted GPA in the classroom and serves as secretary of her school's student council. Also a member of E.C. Glass High's peer-mentoring program and leadership council, she has volunteered locally as a peer tutor, as part of her church's youth group and on behalf of multiple charitable organizations, including Girls on the Run and the Mayor's Youth Council.
Davidson has also traveled on a service-mission trip to Salter Path, N.C., where she donated her time at a food shelter and with Habitat for Humanity.
"Libby is an outstanding young lady, student and runner," said Salmon. "In the 31 years that I have coached, I have never seen a more humble or gracious athlete. Despite her success, she remains extremely grounded. She is one of the hardest working athletes I have ever coached. Libby is a great teammate and definitely leads by example."