Published on Thu., January 29, 2015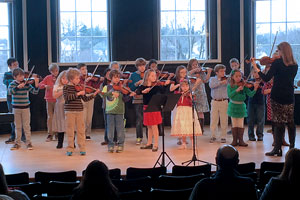 The Miller Center Grand Re-Opening Celebration took place in January, and LCS students were among the first to perform in the newly renovated theater. A select group of violin students from Bedford Hills, Linkhorne, and Paul Munro elementary schools performed under the direction of Mrs. Paris and accompanied by Mr. Mearkle. The Pride of Payne choir and Dunbar Jazz Band performed as well. 
Located in midtown Lynchburg, adjacent to historic Miller Park, Miller Center is the headquarters for the Lynchburg Parks and Recreation department. Miller Center is home to the Parks and Recreation staff and the Nature Zone environmental education center, and also features a large neighborhood center, 186-seat theater, fully-equipped classroom space, and a brand-new dance/fitness studio.