Published on Wed., February 11, 2015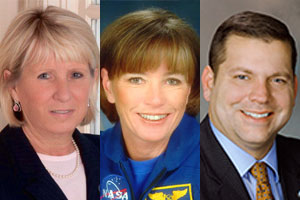 Gifted Opportunity Center students connected virtually with NASA Astronaut Dr. Anna Fisher, Delegate Kathy Byron, and Senator Tom Garrett in February as part of Virginia Aerospace Days. 
First, the students connected with Delegate Byron and Dr. Fisher and asked both women questions about their careers. Both stressed to the students the importance of continuing to work hard on their education in order to achieve their future goals.  
Then students connected with Senator Garrett and Dr. Fisher in the senator's office. The students gave them a 15-minute presentation about the NASA education activities the class has used and how they impacted and inspired the students. Students spoke with great confidence to the senator. One of his staffers, Mr. Reynolds, remarked afterwards that the GO Center students were the best presentation he had heard all day, said GO Center teacher Tracy Proffitt. 
Ms. Proffitt has used various NASA resources this school year with her GO Center students, all of which were inspired by the summer NASA workshops that were made possible by the Lynchburg City Schools Education Foundation.