Published on Tue., April 7, 2015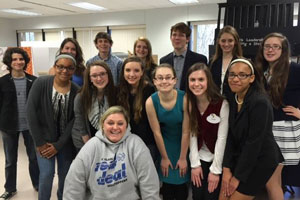 E. C. Glass High School swept all categories in their level at the regional level of the 2015 National History Day Contest. The following students will move on to the state competition April 18th in Petersburg.
Research Papers
1st - Emma Eubank
2nd - Nuha Reza
Individual Exhibits
1st - Sydney Walker
2nd - Ethan Snyder
3rd - Brady Lafen
Group Exhibits
1st - Ana Shabestar and Audrey Billard
2nd - Audrey Martin and Hannah White
Individual Performance
1st - Katherine Morse
Individual Documentary
2nd - Lauren Brown
Group Documentary
1st - Spencer Cohen, Youbin Roh, and Phillip Kreis
Group Website
2nd - Mary Anders Gavedon and Macy Brandon
Paul Laurence Dunbar Middle School for Innovation TV and Media Production student Eleanor Matthews won first place at the History Day competition for her documentary titled: "Lucille Ball: America's First Comedy Queen." Click here to view. She used the skills shed learned in her class at Dunbar to create the video.  
Linkhorne Middle School students also placed in the following categories:
Historical Papers
1st - Cy Pabis
2nd - Laura Cate
Individual Exhibits
1st - Erin McCarthy
2nd - Kai Reese
3rd - Becca Richards
Group Documentary   
2nd - Grace Gada & Gillian Batt
Group Exhibits
1st - Hampton Dodd, Colby Mandeville & Ethan Gerhardt