Published on Wed., April 15, 2015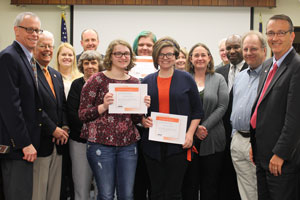 Heritage High School student artwork was on display in February at the Opera on the James as they held their fundraising gala. Students provided the decorations for the fundraiser in the form of 4 by 6 foot panels illustrating the course of the Opera on the James' 10-year history. The 225 opera lovers who attended the event were amazed that this art work was provided by high school artists.
The students and their art teacher Jon Roark were recognized during an April school board meeting. Opera Director Cecelia Schieve also attended to commend the students on their work.
The following student artists participated:
Briannah Ecklund - The Magic Flute
Darianne Ballard - Madame Butterfly
Mallory Kee - Don Giovanni
Hunter Glass - Cosi Fan Tutti
Aliyah Decker - La Voix Humaine
Jamie Swartz - La Traviata
J'Sean White and Le'Anie Hall - Hansel and Gretel
Gabriel Greene and Dominick Coradazzi - I Pagliacci
Lindsey Davis - Carmen
Eric Banks - Bon Appetite
Yana Andreikina, Sarah Vasile & Madison Foster - Suor Angelica
Sophia Kenny - The Elixir of Love
Amina Saeed - Little Women
Grace Kerelejza - Tosca
Sydney Sparrow - Gianni Schicci
Donovan Worline - La Boheme
Noah Richards - Romeo and Juliet
Blair Bradsher - The Marriage of Figaro
Mary White - The Barber of Seville
Click below to see a slideshow of the artwork displayed at the event.