Published on Tue., April 19, 2016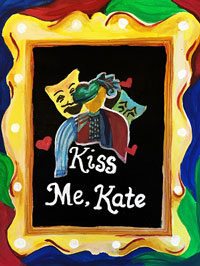 April 23, 2016 marks the 400th anniversary of William Shakespeare's death. E. C. Glass Theatre is marking this important event by presenting a classic musical based on one of The Bard's plays. Combine Shakespeare's Taming of the Shrew with Cole Porter's music and lyrics to get Kiss Me, Kate—a classic that has been a success with audiences time and time again. The show opens on Friday, April 22 at 7:30 p.m. with shows on April 23 at 7:30 p.m., April 24 at 2:30 p.m., and April 28, 29, and 30 at 7:30 p.m.
A story told as a play-within-a-play, each cast member's on-stage life is complicated by what is happening offstage. Kiss Me, Kate was originally produced in 1948 and has been considered one of Broadway's treasures. In 1949, the show won Tony Awards for Best Musical and Best Composer and Lyricist. It was revived in 1999, taking advantage of new technology in music and keeping in mind evolving social values, taking home the Tony for Best Revival. In the revised version all the basic music material for the show was taken back to the fundamentals of its melody, harmony and rhythm, and a new score was written. All seventeen of the original songs are present in the revised score, and the song "From This Moment On" from Porter's "Out of the World" as well as from the 1953 film version of Kiss Me, Kate has been added.
This show is directed by Logan Troyer, a 2009 graduate of E.C. Glass. Student actors are being introduced to both a classic musical and the work of Shakespeare. "Taming of the Shrew is one of Shakespeare's comedies about love, wealth, and social norms" said Calvin Keener, Kiss Me, Kate's student dramaturge. "We've read Taming of the Shrew in drama classes, and talk about the connections to our modern era." Special events and commemorations of Shakespeare and his impact are taking place across the globe on the 400th Anniversary of his death.
All shows are in the E. C. Glass Auditorium. Tickets are $12 for adults and $8 for students and seniors. Go to www.ecglasstheatre.org to purchase advance tickets online. The box office will open at 6:00 p.m. on show nights and at 1:00 p.m. for the Sunday matinee. The doors to the theatre lobby will open at 6:30 and 1:30.