Published on Wed., May 25, 2016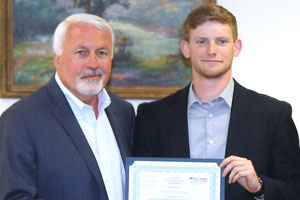 E. C. Glass High School senior Dylan Scott Worsham received a full scholarship for the Engineering Technology Program at CVCC. He was recognized during a special announcement at his school.
The Fees Engineering Scholarship is awarded each year through the Lynchburg City Schools Education Foundation to a senior at E. C. Glass who will be attending the Engineering Technology Program at CVCC. This is the third year that Mr. and Mrs. John and Jill Fees have offered this scholarship. This scholarship is for full tuition, books, and fees and is renewable for a second year upon the student maintaining a 3.0 GPA or better. Students applying for this scholarship needed to provide school and community activities they were active in during high school, including offices held and honors received. Applicants also needed to provide an essay that included their interest in pursuing an engineering degree along with their goals for the next five years. In addition, references were required, including a reference from any STEM (science, technology, engineering or math) discipline who could speak to the student's ability to succeed in an engineering curriculum.
Aside from his academic success, Dylan is a baseball player and has participated all year in the student internship program.