Published on Wed., August 31, 2016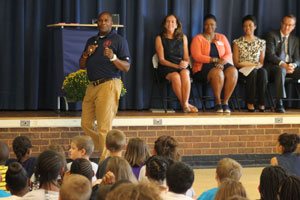 The Little Pioneers at Heritage Elementary School were joined by First Lady of Virginia Dorothy McAuliffe and Virginia State Head Football Coach and Super Bowl Champion Reggie Barlow as they kicked off the first Virginia Breakfast Challenge.
Students played games, learned about healthy eating habits, pet a calf, and showed plenty of school spirit as they welcomed the special guests into their school.
Representatives from the No Kid Hungry Virginia campaign, Southeast United Dairy Industry Association, Virginia Foundation for Healthy Youth, Virginia Hunger Solutions, the Virginia Department of Education and the School Nutrition Association of Virginia also participated in the morning's activities to promote the statewide competition to increase school breakfast participation. 
"School breakfast is as key to student success as books and computers. With a nutritious breakfast, students can focus on their lessons, not on their stomachs," said Mrs. McAuliffe. "The Governor and I are encouraged with all the great progress that has been made toward a hunger-free Virginia, and we hope that all Virginia public schools will join the Virginia Breakfast Challenge to keep up the momentum and expand access for the thousands of Virginia students who go without breakfast each day."